Documentation of new works in progress…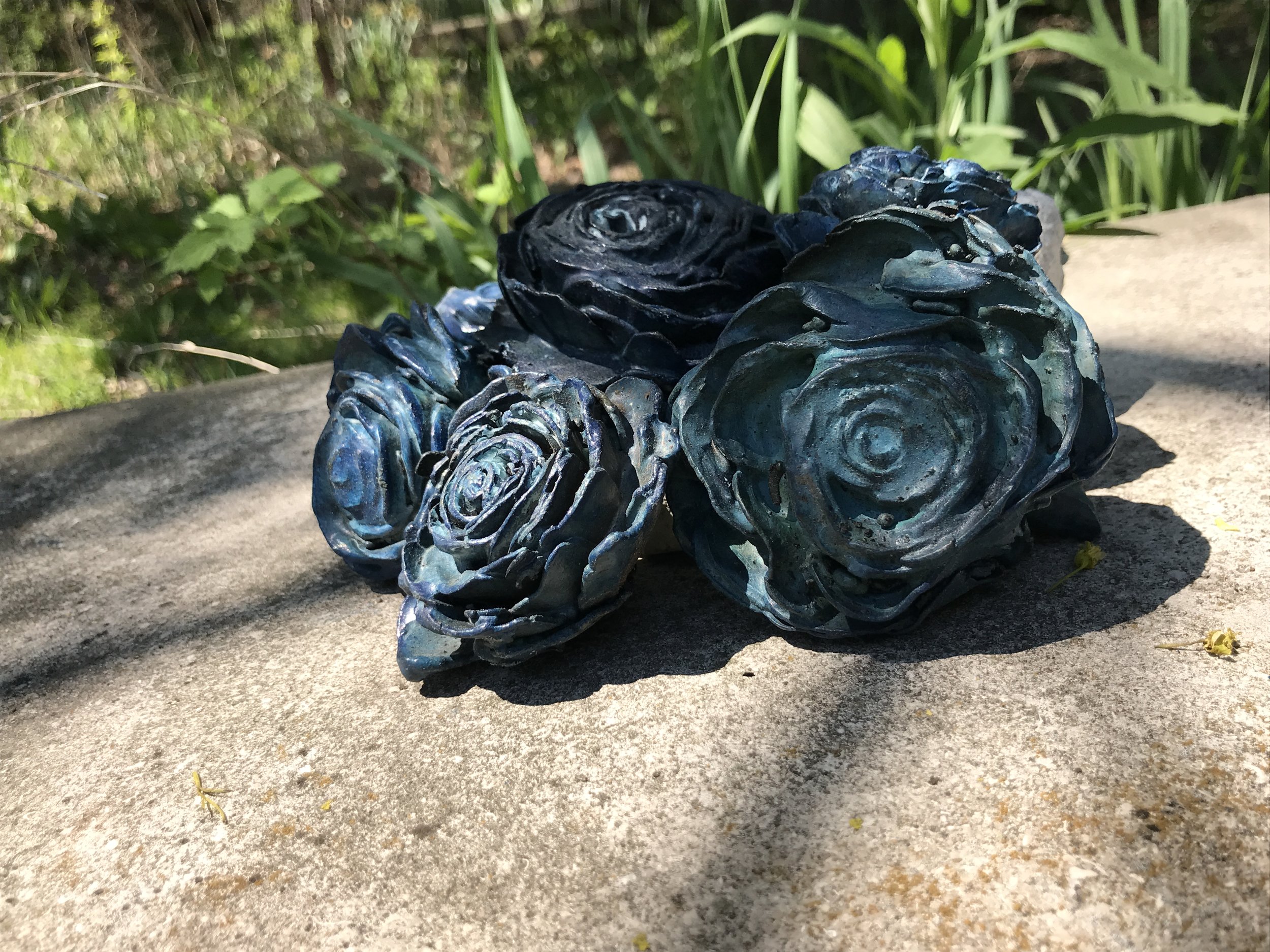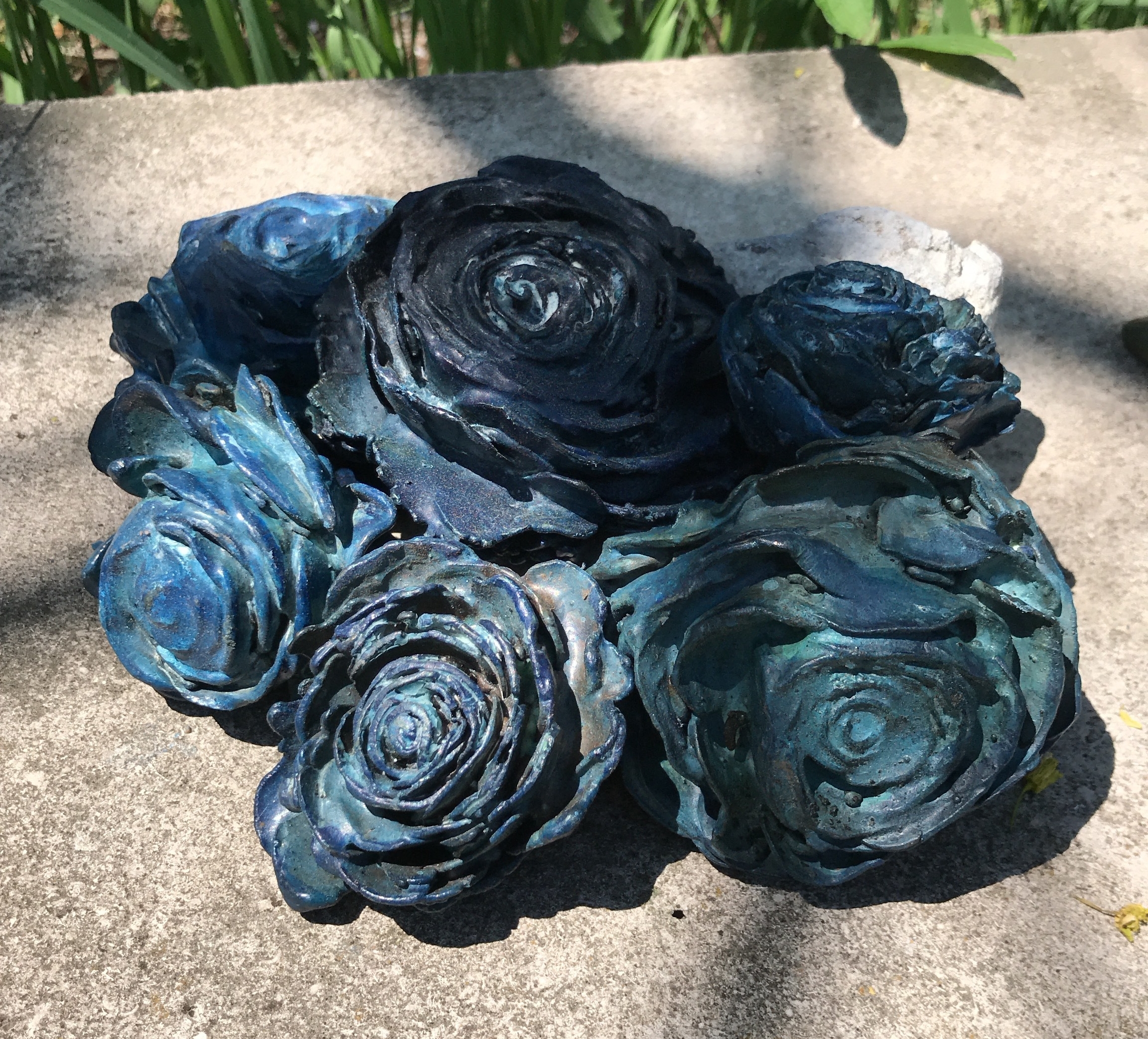 Oma's Flowers, 2018
Bronze, liver of sulphur, cupric, pigment, wax
Conical Study, 2018
Bronze, pigment, cupric, liver of sulphur, wax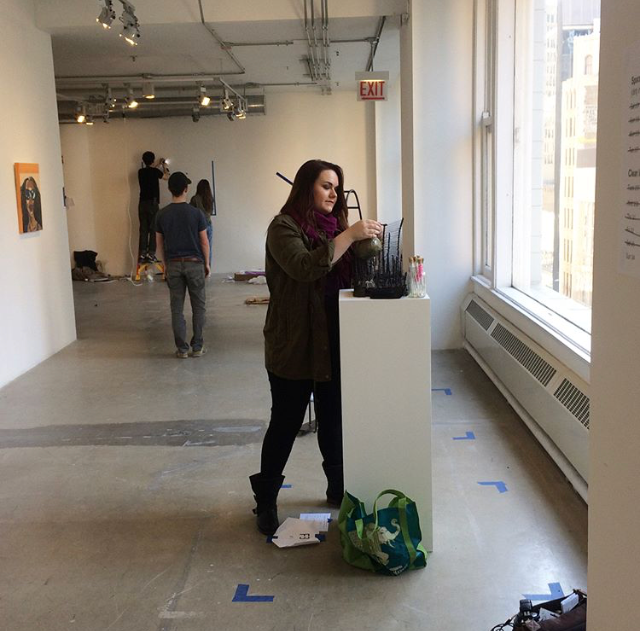 Music Box V: Comfort with Bronze Vessel, 2018
Bronze, cupric, liver of sulphur, wire, thread, steel, mechanism, scent
Splatter Theater Opener, 2018
Found sounds and samples
Acousmatic Composition, 2018
Found and collected sounds
Waiting For Gal Godot, 2017
Foam core, adhesive tape, glue, paper, paint, plastic figures
Adaptation of Waiting for Godot in Second City's Main stage.
#metoo, 2017 (In Progress)
5' x 3' x 2'
1/2" cold rod, specialty tissue paper, adhesive
Embracing the #metoo movement, the work takes an image of my first experience with sexual assault and attempts to create a universal piece showing the staggering number of people who have also experienced sexual harassment and assault. While creating this piece I thought about Louise Bourgeois who said, "In order to liberate oneself from the past - they must reconstruct it, ponder about it, make a sculpture of it, and get rid of it". [This documentation shows part one of three]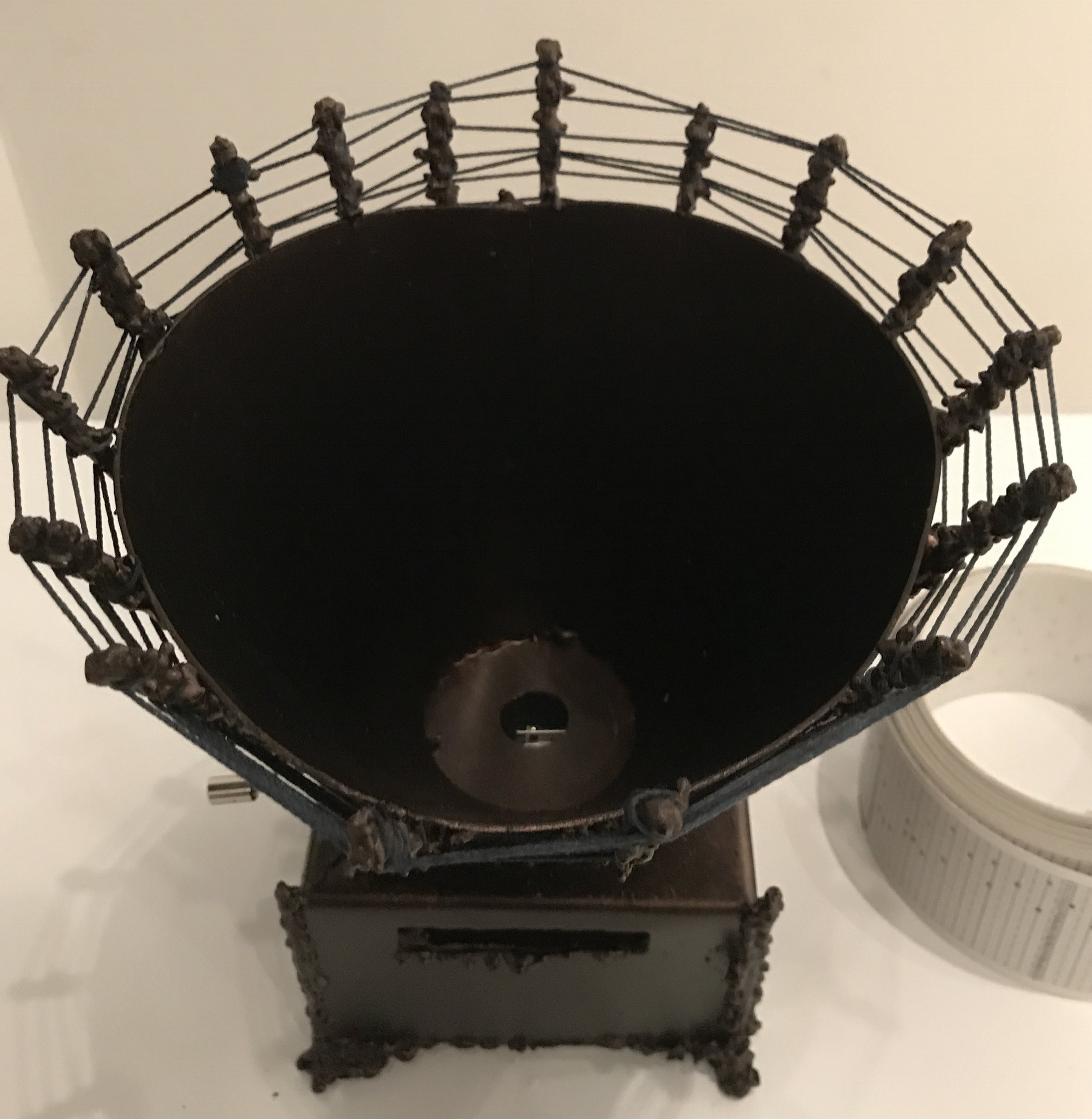 Music Box VII, 2017
6" x 6" x 9"
18G steel, 3/16 cold round steel, paint, dyed string.
Merchandise Mart Study, 2017 (In progress)
Multimedia

TheMART: Music Box
This project attempts to bring music to The Mart by turning each publically accessible floor into playable sheet music for a hand crank music box. The music explores the repetitive programing of each floor and how a body can get lost within the immense space. Though a pattern can be heard while playing through each floor - the distinction from one floor to the next is lost. Moving forward, I plan to experiment with different musical iterations of various Chicago buildings.
Design Communication Overview
By positioning the ultimate scale of the model as the building itself, this course investigates how designers use architectural representation to propose ultimate visions through material reduction and selective context. Students will begin with the a building in its context and trace backwards into the model the communicative elements of architectural building and its atmosphere. These elements will be the subject of material transformation and fabrication. The abstraction of the building in the context of a "souvenir" will be the point of departure for the re-framing of the building by exploring a range of analog and digital techniques. The model will further take on its more mature form within a constructed atmosphere for a speculative audience to further amplify the model's communicative potential.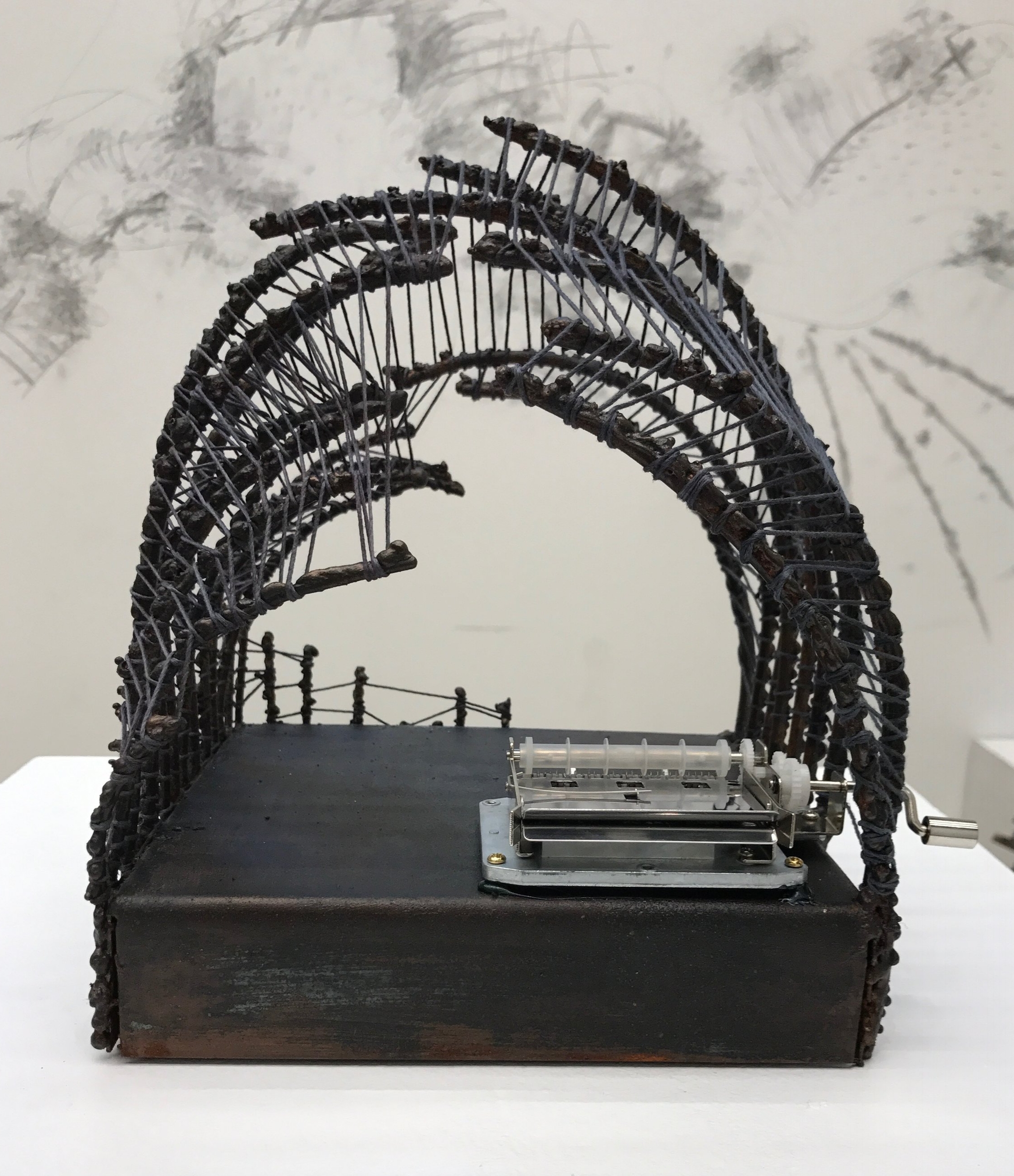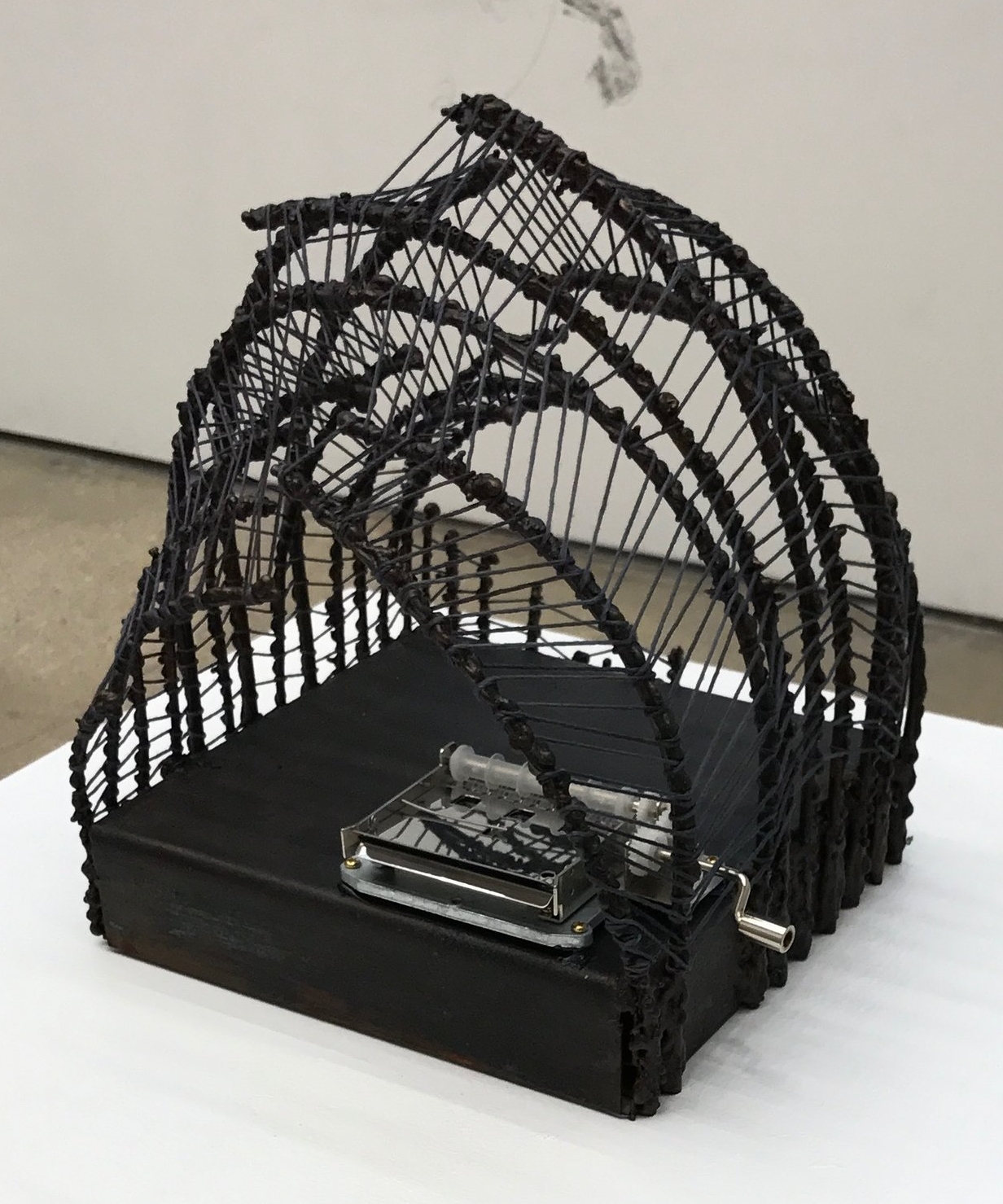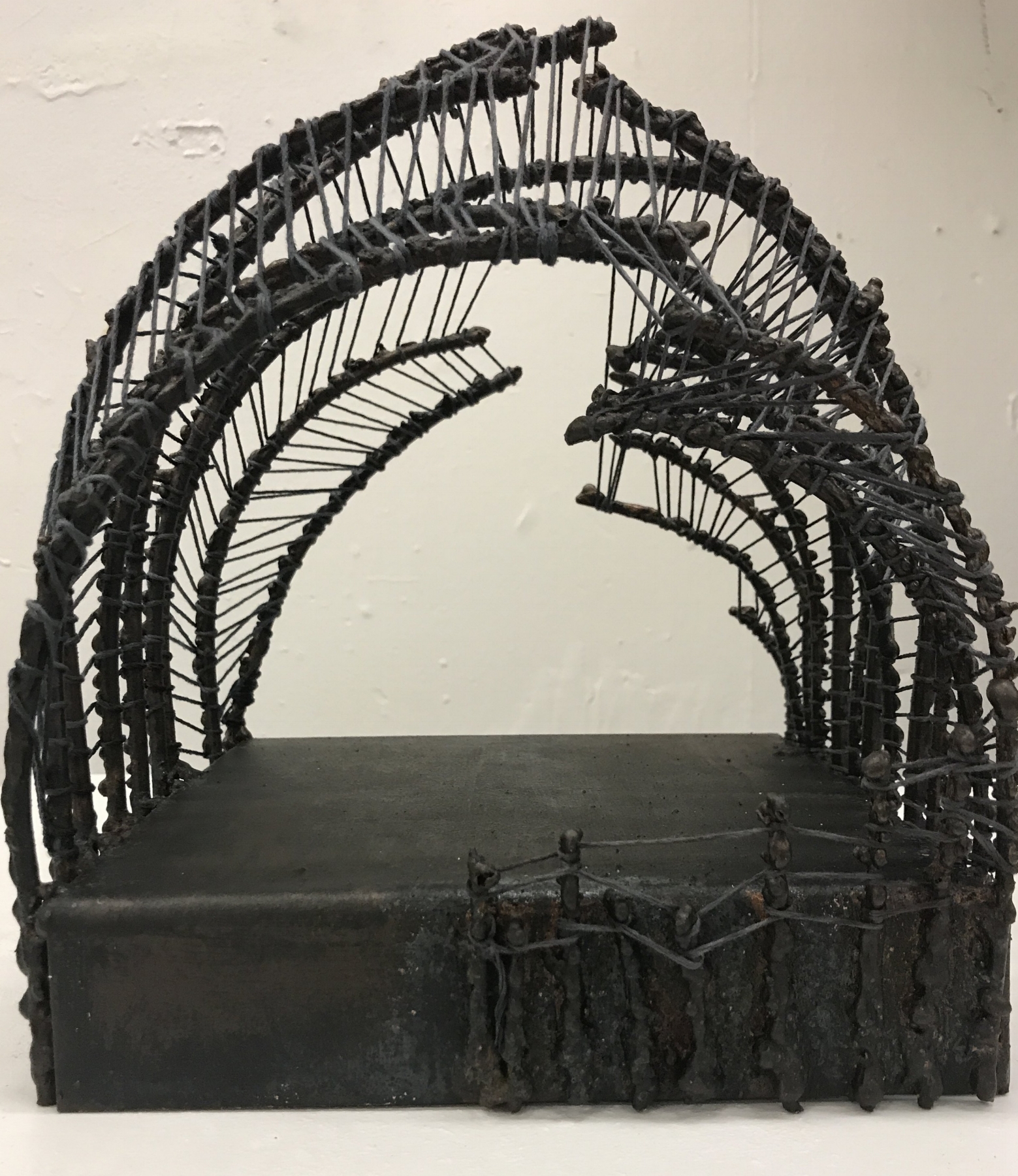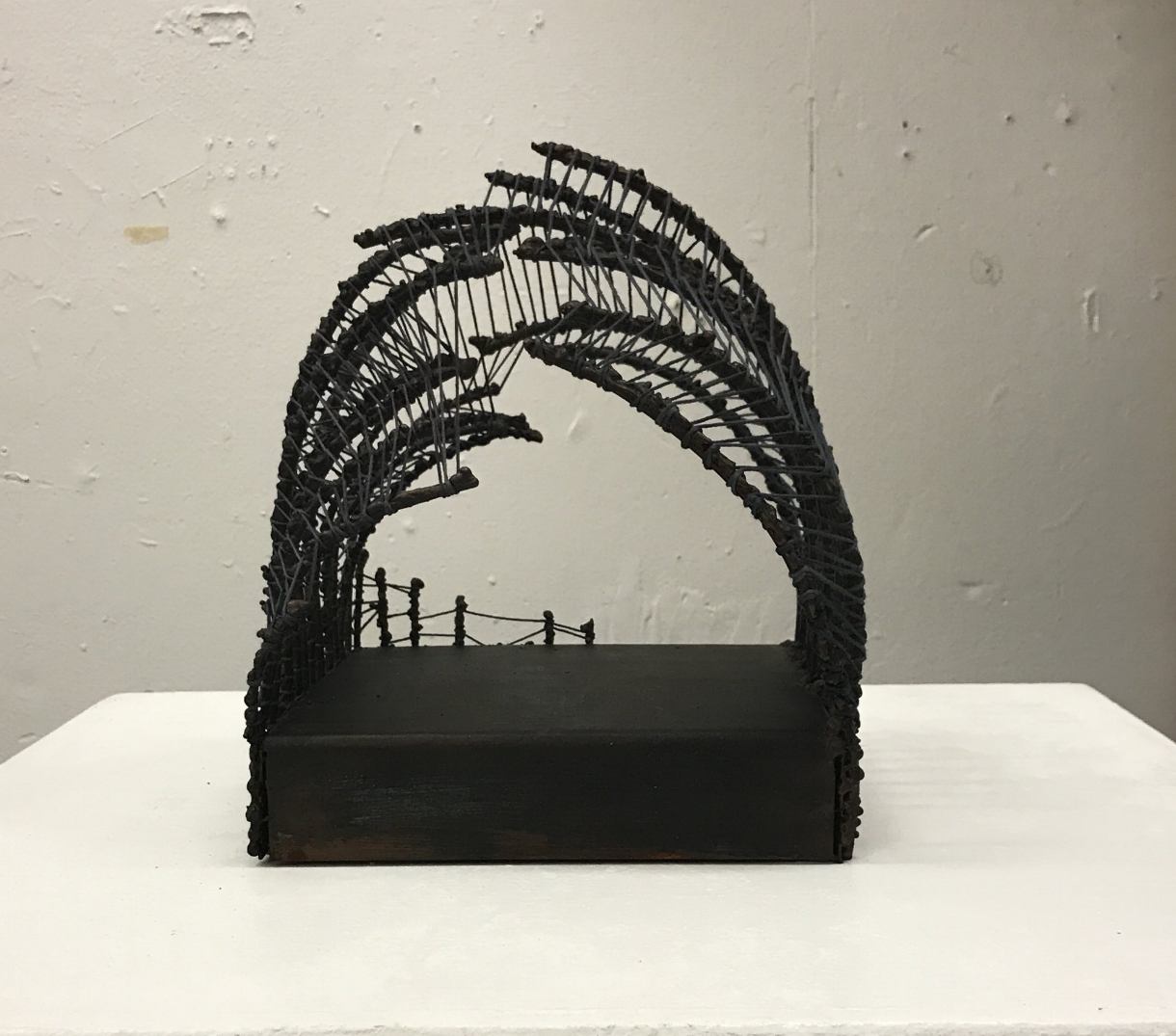 Music Box VI, 2017
1' x 1' x 1'2" (at highest point)
18G steel, 1/8" & 3/16" cold round, paint, dyed string. (In Progress)
Music Box VI was created as a "cross pollination" piece. An immersion in a discipline, system, or practice (outside the context of art). The objective was to use the language, aesthetics or formal properties of that discipline/system/practice in order to create a piece.
Music Box V: Comfort, 2017
1' x 1' x 1'4" (at highest point)
18G steel, 3/16" cold round, thread, dye, glass, paper, scent mixture, wood, fabric.
Music Box V: Comfort was created as an Overt/Covert object. This project contains multiple elements: a Scent, a Music box, and an Ottoman. One is overt in its form and content, the other is covert in its form and content.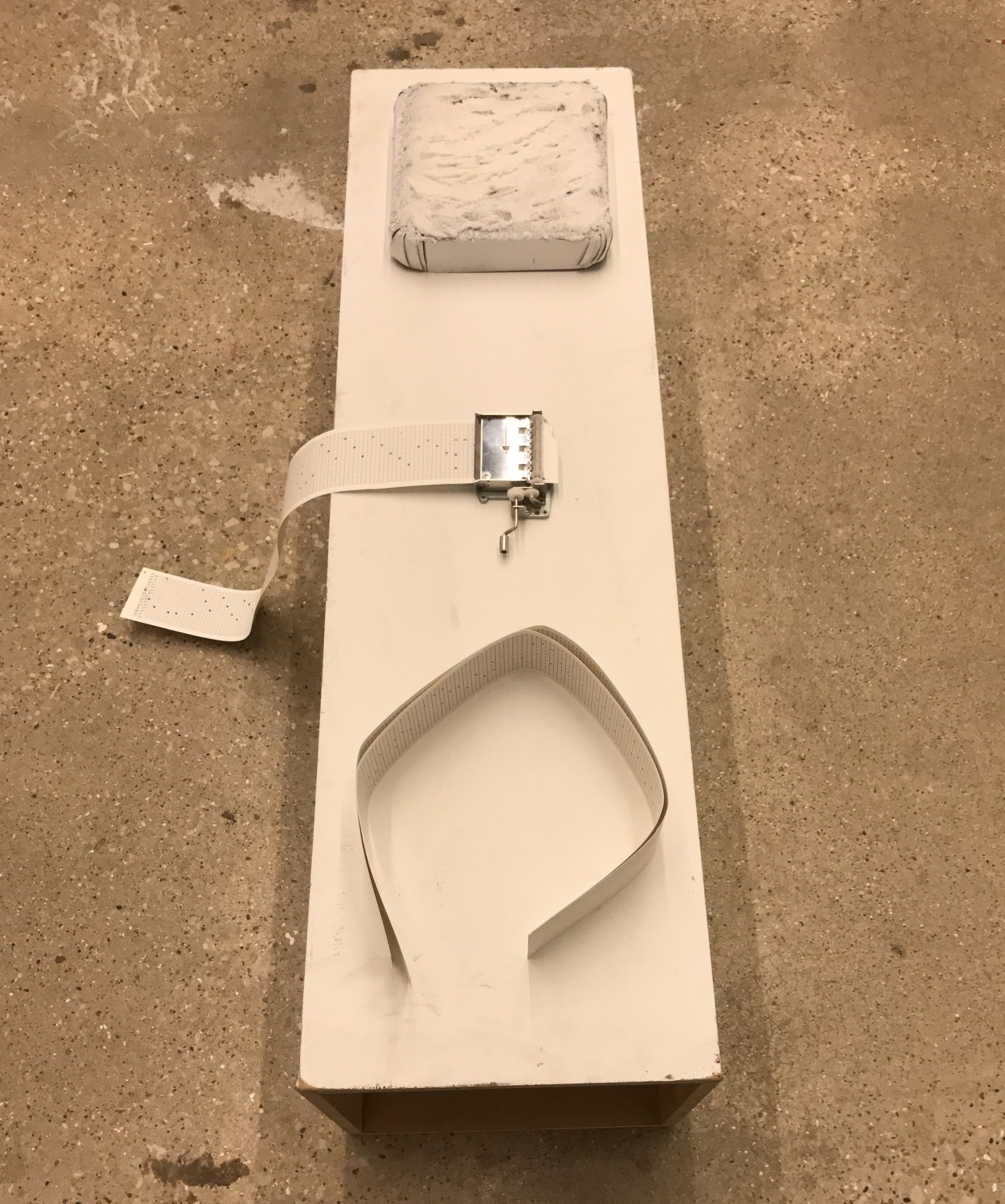 Music Box IV, 2017
18G metal, wood, paper, sand, paint, resin.
Music Box IV was created as an abstraction of an object we find in our environment or cultural sphere. The object abstracted is a framed photo of my grandparents at the beach.
Pinhole Project, 2017
Poster board, paper, gels, tape, and glue.
Light and Space project focusing on creating dynamic architectural spaces using various filters and light within a model.
Music Box II: Permanence, 2016
18G Metal, Paint, Wood, Found Objects.
Self Portrait (Music Box III), 2016
16G Metal, wood, 1/8" rod, string, glass, oils, medicine, lotion, perfume, paint.
Self Portrait is my second attempt at using scent to evoke memory. What started as a journey to better understand my mother and her struggle with bipolar disorder took a turn to self reflection. This unintended piece brought me to a point where I've begun to deconstruct my relationship with my family and my perception of their relationship to each other while creating ties to specific memories. I feel that if I'm going to honestly try to understand my mother I need to go back to a time before she was diagnosed and work from there.
Periaktoi, 2017
Fine black sand, wood, fabric, metal, found objects.
Untitled, 2017
Wood, paint, glass, strawberries, black sand, mysterious paste, wax, perfume.
Untitled was created as part of a mapping project.
Mapping Project, 2017
Wood, fine black sand, wood glue, acrylic, water, dye.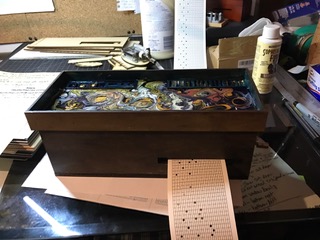 Music Box I, 2016
MDF board, Wood Glue, Screws, Oil-based Alkyd, Metal, Glass, Cork, Paper, Scented oil
Artist statement:
Music Box I is made out of MDF board which was cut using a laser cutter and assembled using wood glue. The outer part of the lid is engraved with an abstracted photo of my mother and I from my childhood. The inside of the lid is painted using transparent and luminous oil-based liquid alkyd colors. The sheet music used in the music box was created by punching holes on a scale, these holes interact with special teeth that strike a specific note as the music is being cranked through. The music consists of 30 notes- the pitch increases from right to left and the beat is signified vertically (solid line between the two dashed lines is a beat).
Music Box I, is my first attempt at creating an archive of perception. The perception is of my mother and her bipolar disorder - there are two reasons for starting an archive like this:
1)To try to better understand my Mother's mind when she's experiencing bouts of mania and depression.
2)To acknowledge a recent past that I've shut out.
This piece is very intimate and I hold it close to me. Each scent triggers a memory from my past: Mania, Balance (Mom), Depression.
The music is Yann Tiersen's, Comptine d'un autre ete. The song is one from a set of music I've chosen. I chose to include this piece in particular because of how dynamic it is. In that depending on the tempo in which it's played, a different response is manifested. Play the music at balanced pace - not too fast and not too slow. Play the music as slow as you can - as if you're losing the strength to turn the handle. Play the music as fast and erratic as you can - without causing physical damage.
Abstraction of a Banana, 2016
For this exercise I created a sectional drawing of a banana, revealing how three-dimensional geometry can be described through a series of orthographic drawings. I digitized the drawings to explore how the manipulation of section can transform spatial volumes, and how we might visualize and represent these transformations.
Boolean Project, 2016
Objective for Boolean Project: Using Rhino - create two or more lofted solid objects and combine them using a Boolean command. The geometry of your objects and the use of the Boolean should demonstrate a clear intentionality.
1. Your Boolean object represented primarily through shapes.
2. Your Boolean object represented primarily through lines.
3. Your Boolean object represented primarily through points.
Farnsworth Project, 2016
MDF, glue, paint, wood. (In Progress)
Objective for Farnsworth Project: Create an Airbnb temporary structure based off of the iconic Farnsworth house.
Popup Restaurant Project, 2016
Paper, glue, paint, acrylic, foam, balsa wood.
Objective for Popup Project: Starting with the standard dimensions of a 40 foot shipping container, convert the space for use as a restaurant, coffee shop, bar etc. The idea is that the business can be placed for a finite amount of time (1 summer, 1 year, 3 years, etc.) but that eventually it will be taken away.
Analogue/Algorithm/Implements, 2016
1. Develop a set of instructions for producing your drawing.
2. Create a drawing based on these instructions.
3D Scanning & Printing
Using the NextEngine HD, I scanned a small object into Geomagic to create a file that I could use to print a 3D object from plastic.
Sign Making
The signage I produce is designed in Adobe Illustrator and the material is cut using either a laser or plasma cutter. Materials range from paper to 16G steel.